16 Mar 2014
What is the Treatment for Bunions?
Print
Email
SaveImage Credit: blog.ingvoldstad.com
Bunion is the outgrowth of bone at the joint of big toe. It bulges extensively due to improper growth of the bone. Big toe is turned toward the other toes. Many experts largely believe that bunion occurs owing to the abnormal enlargement of bone located close to the base of big toe. However, because of the displacement of joints from the big toe, there will be higher risk for a vascular injury. Bunion looks like red calloused skin. It gets aggravated by the pressure from shoes. Bunions are commonly seen in women. People with deformed feet bone structures are more likely to develop a bunion.
ContentWhat are the Causes of Bunion?How is Bunion diagnosed?What are are the Symptoms of Bunion?What are the Non-surgical Bunion Treatment Options?What are the Different Surgeries for Bunion Removal?What is the Post Operative Care Post Bunion Surgery?
What are the Causes of Bunion?
The main reasons to develop bunions could be hereditary where the bone development is improper or as simple as wearing ill-fitting shoes that could misalign the bones and cause pain. If you wear distorted or arrow-toed, high-heeled footwear, it could cause bunion in the long run. Designer shoes with sharp toe box structure speeds up the formation of abnormal expansion of bones at the base of the toes. In addition, if shoe soles do not support heels, the toe region can be badly affected. Poor shape of foot due to degenerating bone diseases such as flat feet, arthritis, and polio can increase the risk of bunions.
How is Bunion diagnosed?
During the diagnosis, your doctor will go through your medical history. A history of bone dieseases such as arthritis or health conditions such as diabetes are checked for. The damage to the soft tissues of your feet and deformities like hammertoes and corns ar examined. You will be asked to undergo X-ray examination for further investigation . The X-ray result helps to evaluate any deformity in the jointis that could be the source of the pain. After going through all the results of physical examination, medical history and X-ray, your doctor recommends surgical or non-surgical remedies for treating bunion.
What are are the Symptoms of Bunion?
Some fo the common symptoms of Bunion include,
Persistent pain while walking, jogging and runningPain while lifting heavy objects, or you might experience pressure on the bony bump which appears along the inside edge of the big toe.Swelling around the big toe along with rednessYou might developcorns near the first and second toe
What are the Non-surgical Bunion Treatment Options?
Usually doctors do not suggest surgical treatment in the inital stages and try to treat bunion through non surgical methods. If the problem has just started proper care and using wide-toe shoes can help control and cure it without any further treatment. Using foam pads can also solve the problem and prevent it from aggravating further. Spacers is another device that is used during night to maintain space between the toes. These can be easily obtained from the local drugstore. If you have a pair of old shoes, you can make a hole in it and use it at home. This will put your foot at ease. Some of the non surgical treatments that can be easily followed on your own are:
Change your shoes: If your shoes are causing irritation and pain in your feet, then you should immediately change them. And if you are suffering from bunion, then you should buy wide toed shoes that give enough space to the affected toe. According to American Academy of Orthopedic Surgeons, regular use of soft soled and wide toe shoes helps in reducing the bunion problem. Using footwear with heels higher than 2 1/4 inches should be avoided.Padding your shoes: Doctors are of the opinion that if soft cushioning is provided to the affected foot, the symptoms of bunion can decrease immensely. You can use bunion pads that are easily available at the local pharmcay for this. You can also try tapping your affected foot. This helps in reducing the pressure on the affected toe in turn reducing the pain.Medicines: Even after trying all these remedies, if the bunion condition is still causing pain, you can try taking regular pain killing medications like ibuprofen, acetaminophen, or naproxen sodium.Ife the pain is unbearable, your doctor will givet cortisone injection for relieving pain.Orthotics: These are the devices that are used to keep the foot in a natural position thereby decreasing the pain. If used daily, it can help the patient recover from the bunion problem and also prevent the problem from worsening farther. Non-prescription devices such as shoe inserts can be used with similar effect and if you are lucky you can get them customized. The Podiatrists take the exact measurement of your feet with the help of mold and prepare shoe inserts exactly matching your feet.
What are the Different Surgeries for Bunion Removal?
There are different types of surgical procedures to eliminate bunions. Sometimes, outpatient treatments are very effective in minimization of the bunions. Patients are released immediately after the surgery. In severe cases, major surgery might be performed which includes anesthesia, medications, pain killers, and different types of medical appliances. Sometimes patients may require bone grafting or bone replacement. Several studies reveal that around 90 to 95 percent patients are satisfied after bunion removal surgery. Surgeries are major performed to correct the deformity in joints, relieve pain and realign the joints. Some of the types of surgeries used for bunion removal are:
Tendons and ligaments repair : This type of surgery is performed when there is an imbalance in the attachment of ligaments and tendons. At some places they are aligned very tightly and from another side they are very loose. Due to this the toe starts drifting from its position. Usually this surgery is conducted in combination with osteotomy wherein the loose tendons and ligaments are reduced and the tighter ones are lengthened.Arthrodesis : In this surgery the damaged joints are removed and with the help of wires, plates and screws the surfaces are held close to one another until the site of surgery heals completely. This type of surgery is only performed when all the other treatments and surgeries have failed to prove relief, especially in cases of severe arthritis.Exostectomy : This type of surgery is rarely performed as it does not rectify the cause of bunion condition. It is mostly used when the bunion toe has big bump and has not drifted from its position. In this the toe bump is removed completely to reduce pain.Resection Arthroplasty : In this surgery, the damaged joint is removed completely. Resection arthroplasty is mostly performed on patients who had earlier undergone bunion surgery and in patients suffering from severe arthritis. This type of surgery leaves a scar joint that is flexible, but do not cause any problem to the patient.Osteotomy : This process involves cutting and realigning the joint surgically.
What is the Post Operative Care Post Bunion Surgery?
Once the surgery is done, the recovery depends on the post operative care. Here are some instructions that can help you in taking proper care of your wound:
Dressing : When you are discharged from the hospital, your toe will be held in proper position with the help of dressing. Doctors recommend wearing cast or postoperative surgical shoe for protecting the foot. After two weeks, the sutures will be removed, but your feet will need proper cushioning and protection for around tonight weeks so as to recover well. For this you will need to support it with regular dressing and braces. Hence it is of utmost importance that you take proper care of dressing and keep it dry so that no infection occurs. You can cover the surgical site with plastic bag while se taking bath.Bearing of weight : You will have to put less pressure on your feet till it is recovered completely and hence you should use walker , crutches or cane while walking. You can put weight on your foot slowly as it recovers. Try walking without aid for short distances first and then slowly increase the distance. With doctor's advise you can start driving after a week from surgery.Swelling and using shoe : Try to keep your foot in an elevated position whenever you are resting or sleeping. Use ice on your wound of swelling. Some amount of swelling will be present for around 6 months even after your bunion problem has recovered completely. This swelling will decrease on its own. When the dressings are removed, you should start using only athletic shoes or oxford type soft leather shoes. Avoid using fashion or high heeled shoes.Exercises : Exercises after surgery help to strengthen your foot and increase its flexibility. Surgical bandies more strength to ankle and marbles. You should start these exercises only after taking advice from your doctor and should learn them properly from a skilled physiotherapist before trying them on your own at home.Medication : Antibiotics to prevent septic and pain killing medication to reduce pain are prescribed post bunion removal surgery. External Referencessurgerybunion.com: Bunion Surgerysquidoo.com: Information on Recovery After Bunion Surgerywebmd.com: Bunion Problem and SurgeryRelated Videos:
Related Images: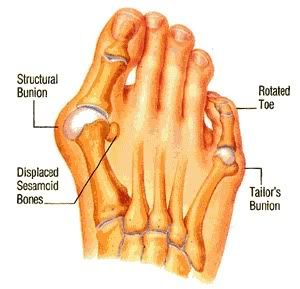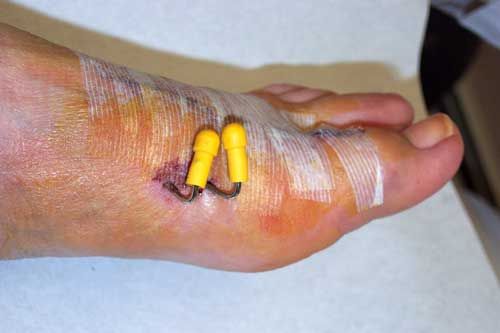 Link Keywords: Bunion Surgery